ENTERTAINMENT NEWS
Subscribe to posts
By: Noah Speta
    On non-World Cup years the annual UEFA Champions league tournament is the biggest competition of the year on the club level. After 6 group stage "round- robin" style games the top two teams from each group proceeds. With now 16 teams remaining in the competition to fight for a place in the finals in Madrid.
    The tournament is a chance for multiple clubs across Europe to prove they are not only the best in their region or even in their nation, but to prove they're the best on the continental stage. The tournament pulls the best from every UEFA registered country, from England to Italy to Russia to Serbia to Greece, if you are a fan of the sport you are guaranteed to get enjoyment out of the games.
    With the tournament now reaching a new stage teams have been drawn for the round of 16 on Monday 12/17/18 with the first first place team being randomly paired against second place teams from groups, as long as they aren't from the teams same domestic league or in the same group that the team participated in.
https://www.uefa.com/uefachampionsleague/season=2018/matches/index.html#/all  
By Darron Pittman
  The Grammy Nominations came out yesterday and there were a lot of people who was nominated more than once. Drake, Cardi B, and Childish Gambino was some of the artist that had many nominations.
Drake and Kendrick Lamar are battling for three Grammys which are the Song of the year, Record of the year and also the Album of the year. For song of the year drake has "Gods Plan" and Kendrick has "All the stars" for record of the year the same two songs are against each other while they also are against each other with album of the year Drakes "Scorpion" and Kendrick's "Black Panther soundtrack".
     While other artist like Cardi B is up for Record of the year and song of the year which is two of the biggest Grammys. Childish Gambino also was nominated for two of the three biggest Grammys song of the year and record of the year with "This is America".  
https://www.foxnews.com/entertainment/2019-grammy-nominations-black-panther-cardi-b-drake-score-big
https://pitchfork.com/news/grammy-nominations-2019-see-the-full-list-here/
 12-10-18   A.S   
By: Kaliyah Lunsford
    Computers and phones have been a great development for technology and had led us to various technological advances, but with the good, also comes the bad. People today are becoming too dependent on technology and it's becoming a problem.
    Think about what you would do if your computer, iPad, or laptop crashed today? What if someone took your phone away for a few days or perhaps you lost it? You wouldn't be happy because most of us cannot go a minute without looking at our phones.
    Society is so dependent on technology that doctors have begin recommending a "technology detox." This is a period when individuals take a break from using any electronic devices including smartphones and computers as a way to reduce stress.
    " Schools are not making the technology problem any better, though. Many schools have stopped the "old-fashioned" way of turning in work - on paper". Teachers have become dependent on assigning, collecting, grading, and returning work online. Although this is conservation of paper, which is a benefit, if the internet is down, work is over for the day. The good come with the bad.
    Many times, people are too worried about their phones instead of living in the moment. If someone is out having fun, thought about their phones are still running through their minds. They are too worried about who is texting them, or if their phones are dying. The result is that you fail to capture and experience the moment since you are busy worried about other things.
Uploaded: 12/10/18
Edited by: DP
Source: https://www.analyzedu.com/blog/essay-samples/persuasive-essay-is-society-too-dependent-on-technology.html
https://sites.psu.edu/siowfa15/2015/10/23/is-society-too-dependent-on-computersphones/
By Devin Canonici
    An upcoming game releases on December 4th 2018, titled Just Cause 4, made by Avalanche Studios. Just Cause 4 is an open world, action based  game.
    Just cause 4 will be a singleplayer based game.
    This third person shooter game will equip players with weapons such as  the drone that will assists players, alternate fire modes and explosive ammunition.
    The game adds in new features like a weather system that includes tornadoes and different biomes.  
    The storyline involves the key player Rico who according to a PCGAMES article, will be going up against a gang called The Black Hand, the world's most powerful private army."
    The game includes a grappling hook, a parachute and the wingsuit for the players to use.
    According to PCGames, the grappling hook "is shaping up to be the series' best yet. It now has new functionality and is fully customisable"
    Just cause 4 gonna use the Apex engine, which will display lighting and showcasing weather.
    It will be interesting to see the new location for Just Cause 4.
Source:
https://www.pcgamesn.com/just-cause-4/just-cause-4-release-date-multiplayer-cheats-setting-gameplay
By: Alyssa Shannon
Disney came out with a teaser trailer for the movie, "The Lion King" and it's going to be in live-action in theaters during the summer of 2019.     
    In this live-action Disney movie they have huge names in it like Beyonce, Donald Glover, Chiwetel Ejiofor and Seth Rogen.     
    The trailer was aired during the NFL's traditional Thanksgiving primetime game. The trailer was racked up 10 million views less than 24 hours.
    People are mostly worry about this movie because they think that Mufasa's death is going to be bad because it is in HD. The director Jon Favreau remade the movie " The Jungle Book" and some people were not pleased with the movie. The reason for this is because they feel directors only want to recreate these movies to get more interest from older viewers.
    The only thing that people are going not to watch these new movies is that they didn't want to see their favorite old story tell the same story and never change. According to an article from the BBC,  "the fans reaction has the largest positive thing from when kids watched it during the football game."
    Overall, people are really happy that they are coming out with new movies that are better than the original so little kids now can see them.
    Uploaded: 12/10/18
    Edited By: CS
    Source: https://www.bbc.com/news/newsbeat-46314035
    The Netflix original series, 13 Reasons Why, is receiving backlash since it was put out for the public on May 18, 2018.
    In the 13 Reasons Why first season, a young, fictional high school student named Hannah Baker commits suicide as a result for being bullied over and over again. The junior made 13 tapes for the different people who drove her to end her life.
    Many people were upset with the show because in the tapes, it talks and depicts scenes of the young girl being sexually assaulted and it shows her actually inflicting self-harm.
    According to foxnews.com, people were mad with the first season, but the second season had  brought a lot more backlash.
    In the finale of the second season, Tyler Down a student who went to Hannah Baker's high school, walks into the boys bathroom at school where a few of his peers start beating him up. Tyler's head is smashed in the bathroom's mirror and against the sink before the boys pushed his face into the toilet bowl.
    While being beat up in the bathroom, Tyler Down was also sexually assaulted and left in the bathroom floor bloody and all alone. At the very end, it shows Down coming to the school dance holding an assault rifle, attempting to shoot up the school.
    The show did put a warning at the beginning of every episode, but some people think that the earning was not enough.
    A viewer wrote, "Can someone make the executive decision to cancel #13ReasonsWhy already? Yes, these topics need to be discussed. But I'd rather it be from a show that knows not to make actual painful situations into dramatic plot points."
    The show has only been out for less than a week. Some viewers appreciate the show touching topics that need to be brought to society's attention, but some think it needs to be approached a different. If 13 Reasons Why continues to air, changes will definitely be made.
Edited By:ST
Uploaded:5/22/18
http://www.foxnews.com/entertainment/2018/05/22/13-reasons-why-slammed-for-graphic-sex-assault-scene-with-some-demanding-netflix-cancel-controversial-show.html
Cristen Quillen
    As many people know Nicki Minaj is a American rapper, singer, songwriter, model, and actress.
    According to Enews.com the famous rapper has kept a low profile for months, but now Minaj is emerging back on the scene and is not in any way hiding her reappearance.
    On the 11th of April, Nicki Minaj appeared courtside at the Staples Center in Los Angeles for a Los Angeles Lakers game against the Houston Rockets. Minaj apparently started a conversation among the crown when she showed up dressed with the idea to impress, according to Enews.com.
    The famous rapper who has been off the scene for a while showed up to the professional basketball game dressed in a studded leather jacket with a strapless zip-up top as well as a matching skirt with fishnet stockings and spiked black heels.  
    There is no doubt that with the impressive outfit, Nicki Minaj was attempting to go  incognito at the basketball game, even though she topped off her outfit with a sweet pair of sunglasses, according to Enews.com.
    According to Enews.com it has been four years since the singer, rapper, and songwriter has produced a studio album, but that does not mean she does not have something in store.
    Early Wednesday morning, the 12th, Minaj broke her so called "social media silence" as she teased followers with promotions for two of her new singles known as "Barbie Tingz" and "Chun Li" which were said to be released on Thursday, according to Enews.com.  
    A senior at Pocomoke High School named Mckenzie Mitchell spoke on her thoughts about Minaj being off the scenes for sometime and reappearing with a impact. "I always really liked Nicki Minaj, as well as her music, but here lately I really haven't heard much out of her," stated Mitchell. "Seeing that she is starting to come back on the scene and making big appearances makes me happy," said Mitchell.
Uploaded: 4/13/18
Edited by: AC
http://www.eonline.com/news/926614/nicki-minaj-stands-out-from-the-crowd-in-bold-courtside-leather-look
By: Monique Snead

    Meek Mill, who is 30 year old rapper was sentenced to two to  four year sentence in Chester, Pennsylvania, state prison for violating his probation revealed that he doesn't let anyone visit including his own family.
    "I won't let my family come,"
he told the magazine. "If they see me like this f–ked-up beard, hair all ganked — then it's like I'm really in here. Which I'm not,'' said Mill.
     Mill has said that he won't let Judge Genece Brinkley win. Brinkley had previously sent him to prison on gun and drug convictions almost a decade ago and has since then sent Mill to prison two more times, once in 2014 and another 2017 for violating his probation.
    "She's a sadist," said an unnamed Philadelphia attorney claimed to Rolling Stone. According to a source Brinkley puts long-tail probations on young black men, then jerks them back to jail for small infractions.
    Judge Brinkley recently sent Mill to prison for popping a wheelie on his dirt bike in New York City in August. Initially Mill was charged with reckless endangerment but the count was dropped to a misdemeanor and eventually dismissed. Mill was ordered to go back to Philadelphia and was charged by Brinkley for violating his probation, even the district attorney and the probation department did not recommend jail time.
    "There's brothers locked down that did nothing to be here but piss off people like Brinkley," Mill told the publication. I want to speak on this system and what it does to black people on both sides of the fence."   
    Many celebrities had spoken out in the past about Mill's harsh sentencing. According to the Associated Press there is a strong showing that conviction will be overturned.
Uploaded: 4/13/18
Edit: JC
https://www.usmagazine.com/celebrity-news/news/meek-mill-speaks-out-in-first-interview-from-prison/
  Byren K.Motes
  Music has changed and developed from the 20's to now 2018 it sounds totally different from what it used to be like and now there's more and famous new artist in this generation and the style of music has changed also the way it used to be it had simple beats unlike today there's like a thousand beats per second. The 20th century saw a revolution in music listening as the radio gained popularity worldwide and new media and technologies were developed to record, capture, reproduce and distribute music.
    The music in this generation uses a variety of recording machines and difficult machines to make one beat or a few to make it sound a lot more better than what it used to be. And the music videos are a lot different, the director of the music video adds special effects and can make the singer be a one location more than one place.
    And for this new generation for clubs now we have DJ's with the huge set that can change in between sounds and edit a beat on spot to change the tempo and replace the track with another sound or beat. Like for trap music there are tons of combinations that they use. and rhythmic snares; deep 808 kick drums; double-time, triple-time and similarly divided hi-hats, and a cinematic and symphonic utilization of string, brass, woodwind, and keyboard and synth, instruments creating an overall energetic, hard hitting, deep, and variant atmosphere.
    David Guetta said, "That moment in 2009 something really unique happened. And it happened, I would say, from 2009 to 2016. There was a moment when the music in the United States and Europe was the same. This never happens. Maybe at the time of The Beatles, you know, but it's very rare."
 https://www.ft.com/content/b2b16ec4-6c9a-11e7-b9c7-15af748b60d0
Edited By: Devin Martin 
Uploaded: 3/5/18
By Ashleigh Dillon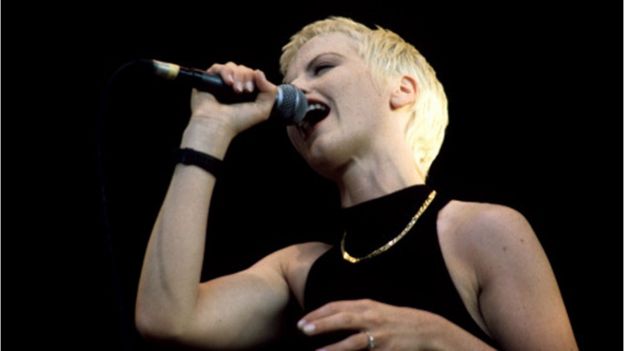 The Irish born singer was confirmed dead on January 15, 2018 by her publicist. She was in London at the time. A police spokesman stated that the police were sent to a Park Lane hotel where a woman was pronounced dead at the scene. Another statement was released by O'Riordan's publicist stating the singer was doing a small recording session in London.
    O'Riordan, originally from Limerick, lead the band to success in the 90s with songs Zombie and Linger. The Cranberries rose to fame with their 1993 album Everybody Else Is Doing It, So Why Can't We? The album went to sell more than 40 million copies worldwide.
    During 2003, O'Riordan and the band went their separate ways. O'Riordan went on to start a solo career. But, in 2009 the band reunited.
    The band announced a tour during 2017 hitting Europe, the UK, and the US. During the European leg of the tour, O'Riordan reportedly had medical issues with a back problem.
    In 2014, O'Riordan was arrested for a reported air rage incident. After two years, O'Riordan was required to pay 6000 euros for headbutting a police officer during the incident.
    During 2015, she was diagnosed with Bipolar disorder. She confirmed this is why she was in a state of mania during the airplane incident. In 2013, she stated that during her childhood she was abused. This led to her developing a eating disorder.
    Dave Davies, The Kinks guitarist and lead vocalist, stated that O'Riordan "seemed happy and well," when he saw her a couple weeks before Christmas time.
    On January 16th, there was a book of condolences open at her Limerick home.
Source: http://www.bbc.com/news/entertainment-arts-42696376 http://www.bbc.com/news/entertainment-arts-42703888
Edited by: DP
Uploaded on: 1/19