OTHER NEWS
Subscribe to posts
By: Julie-Anna Humphreys
On Thursday, December 13th, according to a web publication of Reuters, "google launched an artificial intelligence program in Thailand to screen for diabetic eye disease which causes permanent blindness."
    This program was a follow up of a similar launch in India, and was aimed to show the "social benefits of new AI technologies." This program actually partnered with hospitals, and had a more accurate detection that actual eye doctors and opticians.
    "The program analyses patients' eye screen results to assess if they are at a risk of vision loss, which will enable them to have preemptive treatment... The Thai government has been campaigning against behavior that can lead to diabetes and has made the diabetic eye screening one of the country's national health indicators since 2015.
Uploaded: 12/17/18
Edited By: DP
Source: https://www.reuters.com/article/us-thailand-google/google-launches-thai-ai-project-to-screen-for-diabetic-eye-disease-idUSKBN1OC1N2
By: Kasey Lee
    Fox News reports that "a massive security presence" during President-elect Donald Trump's inauguration has been scheduled due to the recent notification of plans made to "shut down" the nation's capital with protests.
    With the unhappiness surrounding the results of the election, many Anti-Trump protesters are sure to show up and attempt to ruin this traditional day. The Missouri GOP Senator Roy Blunt, chairman of the Joint Congressional Committee on Inaugural Ceremonies suggests that Capitol Hill could have as many as 750,000 demonstrators alone. "No question that on inaugural day, this would be the most appealing target in the world," says Blunt.
    "We're planning a series of massive, direct actions that will shut down the inauguration ceremonies and any related celebrations," a protest group named DisruptJ20 says, "We're also planning to paralyze the city." This was reported by Fox News, and seems like a very major threat that security officers will be sure to recognize prior to the presidential inauguration.
    Fox News also reports that "more than three-dozen law enforcement agencies are working together on security and safety plans in anticipation, including the Capitol Police, FBI, Secret Service and National Guard." It is important for those attending to be safe, and for those protesting to remember to keep it peaceful.
Edited by: DD Uploaded: 1/13/17
http://www.foxnews.com/politics/2017/01/11/massive-security-preparations-under-way-for-inauguration-amid-protest-threats-to-paralyze-dc.html
By: Jordan Waters
     Chinese paleontologist, Xing Linda has just made the discovery of a lifetime. She found the tail of a 99 million year old dinosaur embedded in amber while shopping at an amber market.
      "I realized that the content was a vertebrate, probably theropod, rather than any plant," Xing told CNN. Ryan McKellar, a paleontologist at the Royal Saskatchwan Museum in Canada and co-author of the paper, says he was blown away when Xing first showed him the piece of amber.
        "Fragments of dinosaur-era bird wings have been found preserved in amber before but this is the first time part of a mummified dinosaur skeleton has been discovered," McKellar said.
          The tail section belongs to a coelurosaurian. It's in the same group as the velociraptors and the tyrannosaurus. The small animal could have danced in your hand Xing said.
Edited by: Dylan Barnes Uploaded 12/16/2016
    http://www.cnn.com/2016/12/08/health/dinosaur-tail-trapped-in-amber-trnd/index.html
    MTV's new hit show Sweet/Vicious takes on sexual assault like TV never has before. Although it may not be an easy topic to discuss, it sure is an important one.
    The show revolves around the feminine duo Ophelia (played by Taylor Dearden) and Jules (played by Eliza Bennett) who take justice into their own hands when stories of rape and sexual assaults surface at their school.
     "We're talking about injustices and sexual assaults on campus. It's relevant now, but it has been happening since the beginning of time, and we're only just catching up to it," Bennett tells E News. She says the show will deal with what exactly happened to Jules, and how hard it is to move past it. "We look at what a relationship after you've been sexually assaulted looks like, and that's some of my favorite stuff in the show," she tells us.
Edited By Dylan Barnes Uploaded 12/16/2016
http://www.eonline.com/news/811126/sweet-vicious-takes-on-sexual-assault-like-tv-never-has-before
By: Dom Farrace
SAN JOSE, California---USC tops WVU 3-1 for Women's College Cup Championship on Sunday, 12/4, at Avaya Stadium. This would be USC women's second soccer title. Six seniors and four transfers played major minutes. They accounted for all three goals and two of the assists and eight saves from Sammy Jo Prudhomme, transfer goalkeeper.
     "Katie Johnson scored two against West Virginia, and was named the tournament's most outstanding player." Mentions ESPN.
     "Savannah Levin heading a corner kick deep into the box to set up Morgan Andrews for a headed finish, wasn't the fastest in the history of the final, but it was a lightning bolt. Undaunted, West Virginia piled up possession and shots until Ashley Lawrence tied the game with a 66th-minute strike. Still, the Mountaineers pressed on. Defending wasn't uncomfortable territory. And when Andrews launched a quick counterattack with a long pass that Leah Pruitt, another transfer, turned into an assist on the first of Johnson's two goals, USC had the lead back at 2-1." States ESPN
     The player seemed to be very appreciative of their coaching staff, when McAlpine said "I think this coaching staff did an amazing job bringing these players that came from a similar situation that I did and bringing them back to a place mentally where they believe they're good players. Because they are good players."
Edited By: DA
By: Dom Farrace
OHIO STATE UNIVERSITY--- Just within 2 minutes, eleven students were hospitalized after an attack from Abdul Razak Ali Artan, a student that had been interviewed for the student-run newspaper "Humans of Ohio State." An interview of Artan published through this newspaper showed his desire for a place to pray in peace on a large campus, after transferring from the small Columbus State. "I wanted to pray in the open, but I was scared with everything going on in the media. I'm a Muslim, it's not what the media portrays me to be. If people look at me, a Muslim praying, I don't know what they're going to think, what's going to happen?" States CNN from his interview with the student-run newspaper. However he seems to have fulfilled the stereotype he denied in his interview- a terrorist.
      It was reported by CNN that at 9:52 a.m., he drove over a curb and ran into people near Watts Hall. "He pulled a large knife and started chasing people around, trying to attack them," Bower told CNN, adding that he did not see anyone get stabbed. "Luckily there were so many people, he couldn't focus on one target," student at Ohio, Bower said, according to CNN.
     "Artan was a legal permanent resident of the United States of America, originally from Somalia," a US official said. A federal law enforcement official and US official told CNN that he came to the country in 2014 with his family from Pakistan.
     "We owe him a debt of gratitude," said Monica Moll, director of Ohio State public safety. "He did a fabulous job today," reported CNN.
Edited By: KL
http://www.cnn.com/2016/11/28/us/ohio-state-university-active-shooter/
By: Draven
    Pocomoke City, MD-  Are you interested in enlisting the navy but have tattoos? No problem. As of Saturday the 24 of what month?the navy has loosened the rules on having tattoos in the navy.
    Under the new rules, there will be no limit to the size or number of tattoos sailors can have below the elbow and the knee. Previous rules restricted the sizes of tattoos on arms and legs. Sailors can have a neck tattoo now, although it cannot be longer than an inch in any direction.
    They changed it because they realized most teens now have tattoos and they don't want the ones that are actually interested in being in the navy not get in because they have tattoos. "We need to make sure that we're not missing any opportunities to recruit and retain the best and the brightest because of our policies." says  Mike .D. Stevens, Master Chief Petty to New York Times.
    John-Henry Doucette, who served from 1991 to 1996, was told about the relaxed tattoo rules, he said, "It doesn't sound like the Navy I served in". But, Mr. Doucette said, "if it helps attract young, smart recruits, all the better, adding that it does not matter what sailors look like or how many tattoos they have. What does matter, he said, is: "Do your work. Be good to each other. Have a good ship."
    Many agree with this and some don't. But what's the harm in it. They're just tattoos, which have nothing to do with what job or part of military you want to join. This just means there's going to be more people in the navy who can help when something goes bad, which is a good thing.
Edited KL Uploaded october 13,2016
By: Draven Arsenault
    Paris: Forty-eight million followers on twitter and Eighty- four million on Instagram and many also on snapchat. It is easy to know everything that is going on in Kim Kardashian West's life. Who's with her, where she is at. Her life is pretty much the most public that there has ever been. Her and police say that is how she became a target this weekend in Paris.
     The robbery is said to be the only thing that was not recorded in her life. Surveillance cameras in the Paris hotel did not catch the robbers. The robbers were dressed in jackets styled to appear as cops, which is how she did not know what was about to happen.
     They tied Kim down and stole her wedding ring and other jewelry, worth well over 10 million dollars all together. Two phones were said to also be stolen.
     Kim reportedly told Kanye West, her husband and father of her two kids, that it is her fault and that she did not want him to buy her another wedding band. Kanye was doing a concert when the events transpired. As soon as he was told what happened he left the stage right away and told everyone "there was a family emergency" he recently rescheduled his tour for later in December.
     This was always Kim's biggest fear as she said in People Magazine. She says everything is going to be different now. She is no longer going to have as much of a public life anymore and is going to double both her guards and her undercover guards. She always has been threatened but she said it can't bother her and that she needs to move on with her life. Now that something happened she says "it's the worst thing that ever happened to me"
Edited by: DB   Uploaded October 7,2016
By: Sarah Grant
    The United States Defense Advanced Research Projects Agency (DARPA) wants your ideas of how to turn everyday objects into weapons. A cash prize will be awarded to those Americans who can turn everyday electronics into weapons and bombs. DARPA's objective according to Fox News is to "identify off-the-shelf products that could be adapted by bad guys to pose a threat to Americans." A successful creator could win up to $130,000.
    DARPA advertises this opportunity, "Improv", as "your chance to help give the US military the element of surprise." They have reached out to engineers and biologists for suggestions, along with other experts. They say that "any type of commercially available product that could be weaponized is fair game." Some ideas for materials that DARPA gave included cell phones, model airplanes, skydiving, and scuba-diving equipment, toys, coffee makers, and even hair dryers.
    The goal is to give DARPA strategic surprise. This could be your chance to help play a role in national security and join the world's largest red team. "Red teams adopt an adversary's perspective and challenge conventional wisdom strategy. A red team member helps find vulnerabilities and anticipate threats."
 Terrorists have used simple everyday items to make bombs that do substantial damage. For example in 2006 a liquid bomb was disguised as ordinary liquids and in 2010 a printer cartridge contained explosives. As part of national defense, DARPA is trying to get a one up in order to prevent terror attacks. They want to see what can be made quickly on a tight budget.
     "The awards are expected to be up to $40,000 per individual in the first phase. For the second phase, the prize could be up to $70,000 per individual. The final prototype phase could be up to $20,000 per individual award." Public input would not only win a lot of money, it can protect the country.
Edited By: GE Uploaded: 4/13/2016

By:On'Janae' Sledge            
    In a Nairobi pack a very large lion escapes its confines and attacks a man. This is not the first time one of these big cats has escaped its restricted area and entered into the busy Kenyan City. According to Kenya Wildlife Services in a tweet they have managed to "take control" of the lion and it has been returned to the Nairobi National Park.
   The local people recorded a video of the Lion strolling down the busiest street in Kenya. He soon disappears out of view of the camera and turns around the corner.
   This is the fourth time in just a few short weeks that a lion has escaped from the Nairobi National Park. Just last week a whole pride of lions walked right into the residential areas of Kenya in the middle of the night. Although officials were able to catch a good majority of the lions some returned to the park on their own time.
    A spokesperson for Kenya Wildlife services says that the residents of Kenya are not making it any easier to capture the escaped animals. Mostly by taking selfies and pictures with the escaped lions in the background risking each others life for a picture. "Are you out of your senses?" He says.
    Nairobi National Park is the home to many different kinds of animals, some being leopards, giraffes, buffaloes and many other animals that may graze the large sprawling grasslands. A view of the city is in the background in the lion's view behind the park. The park is bounded by an electric fence that is meant to keep all animals inside. But its south side, away from the city is bordered by a river. It's unclear whether that's the path the lions use to sneak out of the park.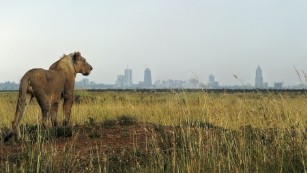 A young lion looks toward the city skyline at the Nairobi National Park last year.